Do You Love Everything Biscotti?
---
Well, you've come to the right place. Here! At Everything Biscotti, you will learn all about Biscotti, everything from its history to making and baking it. You will find the best selection of recipes anywhere! From easy, on to traditional combinations…. and even recipes for those with health concerns like diabetes and gluten intolerance.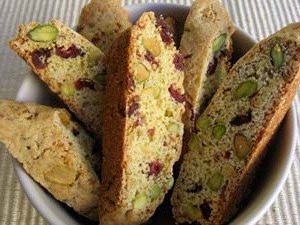 If you are like me then you love!
Eating Biscotti!

Making and Baking Biscotti!

Collecting the Best Biscotti Recipes!

Learning About the History of Biscotti!

Talking About Baking and Sharing Biscotti Recipes!

Giving and Receiving Biscotti as Gifts!

Sharing Your Best at Holiday Cookie Exchanges!

Entering Cookie Contests and Winning with Biscotti!

Making Healthy Versions for Those With Health Concerns!

Baking with finest quality ingredients!
But.......Before I share my recipes and baking knowledge, let me tell you a bit about this site.
Everything Biscotti.....is a site in progress! Every week I will strive to add more recipes along with baking tips, storage suggestions, serving and gift giving ideas.
THIS SITE will become your one source for everything you kneed to know about Biscotti!
Return often to see what's new!
---
Everything Biscotti
Is dedicated to providing you with the best recipes, baking tips and discussion of ingredients so that you can become a successful home Biscotti baker.
While I love the traditional recipes, I personally am diabetic and have family members with gluten intolerance so I have included recipes and information for those with these concerns as well.
Cooking and baking are my passion! And fell in love with these famous Italian cookies at a local Italian cooking class several years ago and have been collecting recipes and improving my techniques ever since.
Now I want to share this knowledge with you!
Making Biscotti.. is not.. really that difficult..., but the twice baking process does take time.
So if you are busy, and who isn't you can make and bake in stages over several days!
Making this delectable Italian cookie perfect for the busy home baker!
......Day...........Stage.................................................................................
Make the dough and store it in the refrigerator for a day or two.

Form the dough into logs and bake them, store the slabs at room temperature for up to a day.

Slice them and baking them the second time.

EAT AND ENJOY!
If you are new to baking you'll find Everything Biscotti full of tips and suggestions for helping to ensure your homemade versions of this delectable Italian cookie turn out great every time.
I am still gathering and developing the best recipes for you from all over the world. So check back often to see whats happening!
---
WHERE TO FROM HERE????
BISCOTTI BAKING BOOK REVIEW         OR...............
---
| | |
| --- | --- |
| Making biscotti isn't difficult it's just different than making trays and trays of individual cookies.  You can do it! | |
| | |
| --- | --- |
| | |
---
---