Our Collection of Biscotti Recipes
---
These Biscotti Recipes are dedicated exclusively to biscotti lovers. From easy, on to traditional combinations…. and even recipes for those with health concerns like diabetes and gluten intolerance.
If you are new to baking biscotti it is best to start with the Easy Biscotti.   Once you master those, don't stop there, move on to the more difficult or complicated recipes.  After a bit you will feel comfortable moving into the Gluten Free Biscotti or Sugar Free Biscotti and will soon be sharing baked goods with your friends who have health concerns.
The pages in this site are also loaded with tips and tricks to make sure your biscotti recipes turn out better than anything you can buy.  Click Here for the tips and tricks index.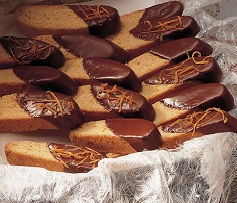 Chocolate Dipped Orange
| | |
| --- | --- |
| Nut and Fruit Biscotti | Peanut Butter Cup Bisotti |
---
GREAT COLLECTION OF BISCOTTI RECIPES, NOW SHOW ME HOW TO MAKE BISCOTTI AS WELL AND ANY TIPS you may have!!!
---
---
Have a Great Biscotti Recipe.... Why Not Share It!
I have been collecting Biscotti recipes for years and have started developing my own creations,but I can never have to much. If you have one you love, share it here.
---
Questions or Comments?
Like a recipe or something you read? LET US KNOW!
Have a Question don't be shy, ASK US!
---