Italian Christmas Baking Recipes
Here at Italian Christmas Baking Recipes you will find a nice selection of traditional Italian Baked goods, including a holiday biscotti recipe.
Included are some of the most traditional Italian Christmas cookies that Italian Nonne... or Grandmothers have preserved for many generations.
Browse the Italian Christmas Baking Recipes recipes below and you will find recipes you can use for your Christmas celebration.  For sure all these recipes can also be used for your New Year's Eve and New Year's Day celebrations as well!
---
Christmas Baking Recipes Index:
---
Holiday Biscotti

These Holiday Biscotti are pleasingly chewy biscotti, coated on one end or drizzled with white chocolate and sprinkled with colored sugar crystals. I make these every year; they travel extremely well and make a great Holiday gifts. 
Ingredients
2 1/4 cups all purpose flour
1 1/2 teaspoons baking powder
3/4 teaspoon salt
6 tablespoons (3/4 stick) unsalted butter, room temperature
3/4 cup sugar
2 large eggs
1 tablespoon grated lemon peel
1 1/2 teaspoons vanilla extract
1 teaspoon whole aniseed
1 cup dried sweetened cranberries
3/4 cup shelled natural unsalted pistachios
6 ounces white chocolate, chopped
Red and green sugar crystals
Directions
Line a baking sheet with parchment paper or silicon baking mat and set aside.
Place one oven rack in the middle of your oven and preheat oven to 325 degrees F
Sift flour, salt and baking powder into a medium bowl.
In a separate, beat butter and sugar until blend well, using an electric mixer.
 Beat in eggs 1 at a time. Mix in lemon peel, vanilla, and anise.
Add n flour mixture and mix just until blended. Stir in cranberries and pistachios (dough will be sticky).
Turn dough out onto lightly floured surface and knead until dough comes together.
 Gather dough together; divide in half. Roll each half into 12  to 15 inch-long log (about 1 1/4 inches wide).
Carefully transfer logs to 1 prepared baking sheet, spacing 3 inches apart and flatten a bit.
Bake logs until almost firm to touch but still pale, about 28 minutes.
Cool logs on baking sheet 10 minutes. Maintain oven temperature.
Carefully transfer logs still to cutting board. Using serrated knife and gentle sawing motion, cut logs crosswise into generous 1/2-inch-thick slices.
 Place slices, 1 cut side down, back on to the baking sheet.
Return to oven and bake until firm and pale golden, about 9 minutes per side.
Transfer cookies to racks and cool.
After biscotti is cool.
Line another baking sheet with waxed paper.
Stir white chocolate in top of double boiler over barely simmering water just until smooth.
Remove from over water, place in Ziploc bag, nip corner off and drizzle over biscotti.
Sprinkle with red and green sugar crystals.
Place cookies on prepared sheet. Chill until chocolate is firm, about 30 minutes.
 Store airtight between sheets of waxed paper at room temperature.
                          Back to Top of Christmas Baking Recipes Index
---
Other Italian Christmas baking recipes
---
Almond Ravioli... delicate cookies filled with Almond Paste! They are a delightfull addition to the Christmas Baking Recipes Collection.

Makes about 30 Cookies

Created by Lucys Place, Date Added: Saturday, 16 September 2014
Ingredients
Filling:
1  1/2 Lb Almond paste
3 Egg whites
1 1/2 Cups Powdered sugar
1/2 Cup Granulated sugar
1/4 Cup Mini chocolate chips
Dough:
1 Lb Flour
1/2 Lb Crisco or Lard
1 Cup Sugar
1 Bag - Vanillina Pane Degli Angeli or 1 Tsp Vanilla extract
Zest of 1 lemon
3 Eggs
1 Tbs Baking powder
Milk as needed  - about 1/4 cup
Directions
Filling:
Mix the almond paste, the egg whites and the sugars together.
At the end fold in the chocolate chips.
Dough:
In a bowl, mix all the dough ingredients and add as much milk as necessary to make the dough soft and elastic. Cover it and let it rest for 30 mins.
Take a small ball of dough the size of a golf ball and roll it in your hand.  With your finger, press and indentation into the dough and fill it with the filling. Close cover the filling with the dough on the sides of the ball and roll it again in your hands. Place it on a baking sheet and with the palm of your hand press it down.
Make all your cookies and  bake them at 375F for about 10 Min.
Garnish with powdered sugar.
                          Back to top of Christmas Baking Recipes
---
Christmas Biscottini
These Almond Biscottini... are so delicate and delicious! My mom has a great collection of Christmas Baking Recipes, these remind me of the Almond Crescents she use to make at Christmas time.
Well, accept for the sugar sprinkles!
---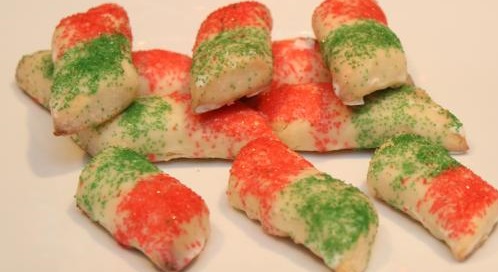 Ingredients
Cookies:
1 Lb Raw Almonds*
1/2 Lb Sugar
Zest of 2 lemons
3 Egg whites
Icing:
3/4 Lb Powdered sugar
1/4 Cup Milk
Directions:
Line a baking sheet with parchment paper or silicon baking pad and set aside.
To prepare the paste, boil the almonds and remove the peel. Once they are cold and somewhat dry, put them in a food processor or a blender and chop them finely.
Put the chopped almonds in a bowl; add the lemon zest, the sugar and egg whites. Mix until the egg whites dilute the sugar and the mixture becomes a paste.
Take a lump of dough; roll it into a stick about 8" long and 1/2" thick. Press with a fork to flatten it and create ridges with the teeth of the fork.
Cut the strip of dough on a diagonal with a knife, pieces should be about 1 1/2" long.

Place all the cookies on a baking sheet and bake for 8-10 minutes at 350F.

Remove from oven and let them cool. Meanwhile prepare the icing.
Make your icing my mixing the milk and sugar. The icing should be a thick liquid.  If not thick enough add more powdered sugar
With a brush apply the icing on each cookie to cover the top.
Place on waxed paper and let the icing dry completely for several hours.
* you can use blanched almond meal to save time.
Adapted from "Cooking with Nonna"
                                 Back to top of Christmas Baking Recipes
---
Christmas Cuccias

These scrumptious Christmas Cuccias are an Italian family tradition during the Holidays. The filling is basically a mixture of dried figs, raisins, walnuts, candied orange rind and spices.  You can enjoy them with a cup of espresso, plain coffee or just a simple glass of milk.

Adapted from a recipe by apostle10  

Christmas Cuccias
---
Ingredients:
Dough
2 cups all-purpose flour

1/2 teaspoon baking powder

1/2 teaspoon salt

1 1/2 sticks (3/4 cup) unsalted butter, softened

1 cup sugar

1 large egg

1/2 teaspoon vanilla
Filling
½ cup raisins

½ cup dried figs

½ cup candied orange peal

½ cup chopped walnuts

¼ tsp each cinnamon, nutmeg and ground cloves
Icing
Directions:
Whisk together flour, baking powder, and salt in a small bowl.

Beat together butter and sugar in a large bowl with an electric mixer at medium-high speed until pale and fluffy, about 3 minutes in a standing mixer (preferably fitted with paddle attachment) or 6 with a handheld.  Beat in egg and vanilla.

Reduce speed to low, then add flour mixture and mix until just combined.

Gather up dough on a sheet of plastic wrap and roll up dough in plastic wrap. Chill dough in refrigerator l firm, at least 4 hours.

In the mean time prepare the filling.

Place the dried fruits and nuts and spices in a food processor and blend until thick dough like paste forms.  Add a little warn water if necessary.

Put oven racks in upper and lower thirds of oven and preheat oven to 325°F.

Take a portion of the dough and roll out flat to approx 3/16"

Cut dough in circles 4 inches in diameter.  An old can from 28 oz. tomatoes is just the right size.

Roll filling in walnut-size balls, place in center of cut dough fold over. Press edge with wide tined fork before baking.

Bake cookies, switching position of sheets halfway through baking, until edges are golden, 20 to 25 minutes, or until edges are lightly browned

 Cool on sheets 3 minutes, and then transfer to racks to cool completely.

Prepare Icing by blending the milk and powdered sugar.

Brush each cookie and sprinkle with sugar crystals.

Plane on waxed paper and allow to hardened before storing in air tight container.
                                     Back to top of Christmas Baking Recipes
---
| | |
| --- | --- |
| Chestnut Tortelli | Chestnut Tortelli are a traditional Italian Christmas dessert. They are made with a pastry dough that is filled with a mixture of ground chestnuts, rum, cinnamon,and chocolate.  Some bakers fry rather than bake these cookies.   |
They can also be drizzled with honey or rolled in cinnamon-sugar.  In Calabria and other parts of southern Italy, cooked chickpeas are substituted for the chestnuts. 
---
Ingredients: 
Dough
3-1/2 cups all-purpose flour

2 teaspoons baking powder

1 teaspoon salt

8 tablespoons unsalted butter, cut into chunks

2 eggs, room temperature

1/4 cup olive oil

2 tablespoons cold water
Filling
10 ounces peeled, cooked fresh or canned chestnuts

2/3 cup sugar

1 tablespoon unsweetened cocoa powder

3 tablespoons rum or brandy

1-1/2 teaspoons ground cinnamon

3/4 cup chopped semisweet chocolate or mini chocolate chips.

 
Confectioner's sugar for coating
Directions:
To make the dough:
Combine the flour, baking powder, and salt in a food processor.  Add the butter 

and pulse the mixture until coarse crumbs form. 

In a small bowl, whisk 

together the eggs, oil, and water.  Add to the flour mixture and pulse until a

dough starts to form.

Remove the dough, shape into a disk, and wrap in 

plastic wrap.  Let rest for 30 minutes.  The dough can also be refrigerated for 

up to 48 hours.
To make the filling:
Combine the chestnuts, sugar, cocoa, and rum, and cinnamon in a food 

processor.  Process until finely chopped and transfer to a bowl. 

Stir in the 

chocolate chips.
To make the cookies:
Preheat the oven to 375-degrees F.

Line 2 large baking sheets with parchment paper.

Divide the dough into 4 pieces.  Roll out each piece about 1/8-inch thick.

With a biscuit cutter, cut out 2-1/2 inch rounds.  Place a teaspoon of the filling 

on one half of each round.

Moisten the edge of the round with a little water, 

fold the round in half and pinch the edges to seal.  Place the tortelli on the 

baking sheets.

Bake 15 minutes or until lightly browned and crisp.  As the tortelli come out of

the oven, transfer them to a bowl filled with the confectioner's sugar.

Roll them 

in the sugar and then transfer to wire racks to cool.  

Store in an airtight 

container for up to 2 weeks.
                                   Back to top of Christmas Baking Recipes
---
Italian Holiday Baking Recipes
prepared by Italian Grandmas.
---
If you have a great Recipe for Italian Christmas cookies, why not add it to our Christmas Baking Recipes Collection.
---
Have a Great Biscotti Recipe.... Why Not Share It!
I have been collecting Biscotti recipes for years and have started developing my own creations,but I can never have to much. If you have one you love, share it here.
---
If you have a question or comment about or Italian Christmas Baking Recipes, ASK AWAY!
---
Questions or Comments?
Like a recipe or something you read? LET US KNOW!
Have a Question don't be shy, ASK US!
---