Vegan Cookie Recipes
---
In order to understand the why of these Vegan Cookie Recipes you need to know what being Vegan means.
Veganism is a type of vegetarian diet that excludes meat, eggs, dairy products and all other animal-derived ingredients. Most vegans also avoid the use of all products tested on animals, as well as animal-derived non-food products, such as leather, fur and wool.
The three primary ingredients used to make Biscotti that would need a Vegan substitution are eggs, butter/margarine and chocolate.
For more on how to make substitutions for these ingredients in your Vegan Cookie Recipes. Click Here
---
VEGAN COOKIE RECIPES INDEX
---
Vegan Orange Biscotti

Vegan Orange Biscotti, with cranberries and walnuts.

Orange Biscotti is still one of my favorites, loaded with (optional) nuts and dried cranberries, the way I like it!
The non-vegan version is the cookie that started my love for Biscotti.  If you would like to read the story behind that CLICK HERE
Vegan Orange Biscotti, with cranberries and walnuts
1/2 cup non-hydrogenated Vegan margarine, softened (Like Earth Balance)
1/2 cup + 2 tablespoons organic sugar
2 egg substitute (like Ener-G egg substitute)
1 teaspoon vanilla extract
2 teaspoon orange extract
Zest of one orange
1 3/4 cups unbleached all purpose flour
1/2 cup whole wheat pastry flour
1 1/2 teaspoons f baking powder
Dash of salt
Directions:
Place one of your oven rack in the middle of your oven and preheat to 325 degrees.
Line a baking sheet with parchment paper.
In a large mixing bowl, beat margarine and sugar until light and fully incorporated.
Beat in eggs and extracts, add the add orange zest.
Fold in nuts and cranberries, if so desired.
In another bowl, place flours, baking powder and salt, whisk to combine.
Stir flour mixture slowly into creamed butter and sugar, being careful to not over mix.
Turn dough onto floured surface, kneed briefly until it comes together, wrap in plastic wrap and refrigerate for at least 30 minutes.
Divide dough in to two equal parts and shape each into a log 12 inches long.
On prepared baking sheet, place each log and press flat until about 2 inches wide and 1/4 inch thick.
Place in oven and bake till golden brown, about 25 minutes.
Remove from oven and let cool for 20 minutes. Reduce heat to 300 degrees.
Place log on cutting board.  Using a serrated knife, cut on diagonal, roughly 2/3 inch thick.
Return slice to baking pan, laying on one side.  Bake for additional 20 minutes, turn over half way through the bake.
Remove from oven and cool completely on wire rack.
Place in air tight container and store at room temperature for up to two weeks.

Vegan Orange Biscotti
                                      Return to Top of Vegan Cookie Recipes
---
A few other vegan cookie recipes
---
Vegan Double Chocolate
Gooey, rich, double chocolate cookies made with whole grain oat flour. These will satisfy your every chocolate craving and then some!   Butter and many margarins are not Vegan, so to get around this this 
Vegan cookie Reicpe uses virgin coconut oil.
What makes this recipe even better is that it's a one bowl recipe. I even made the flax egg in the same bowl to save on dish washing.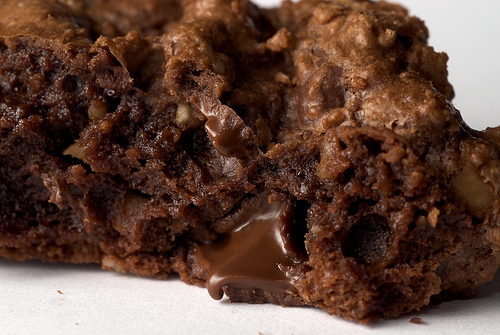 Vegan Double Chocolate
VEGAN DOUBLE CHOCOLATE RECIPE
Ingredients:
Directions:
Preheat oven to 350F and line a large baking sheet with parchment paper.
In a large mixing bowl, mix together the flax and water and set aside for a few minutes so it can thicken up. Whisk the flax egg again once thickened.
Add coconut oil, sunflower seed butter, brown sugar, cane sugar, and vanilla. With a hand-held electric mixer, beat the ingredients until combined and smooth.
Now, beat in the dry ingredients, one by one, as you go down the ingredient list (baking soda, baking powder, salt, cocoa powder, oat flour).
If your dough is a bit dry, add a teaspoon (or two) of non-dairy milk and beat the mixture again. The dough should be moist enough to form balls without cracking, but not super sticky.
Finely chop the chocolate (it should be the size of peas). Beat the chocolate into the batter or simply stir by hand.
Shape balls of dough (about the size of a golf ball or 2 heaping tablespoons) and place on the baking sheet 2-3 inches apart. Gently press down on each ball with your hand to form a disc (it should be 1/2-inch thick or so).
Bake for about 12-13 minutes until the cookies are spread out nicely.
Cool cookies on the baking sheet for 7 minutes or so and then transfer to a cooling rack for another 10-15 minutes.
Notes:
Instead of sunflower seed butter, you can try peanut or almond butter (this means they will no longer be nut-free, of course)
To bring out the chocolate flavor even more, try sprinkling the cookies with a tiny amount of flaked sea salt before going into the oven. 
                                       Return to Top of Vegan Cookie Recipes
---
Vegan Chocolate Chip Cookies

These Chewy Chocolate Chip Cookies are no nonsense great, and I think they are better than the non-vegan ones my grandma used to make.

Vegan Chocolate Chip
Ingredients:
1/2 cup spelt flour
1/2 cup + 2 Tbsp white flour (organic, unbleached)
1/3 tsp pink salt (any salt to sub)
1 1/2 Tbsp freshly ground flax seeds
1 1/2 tsp baking powder
1/2 cup + 2 Tbsp organic sugar
2 tsp creamy peanut butter (optional)
1/2 cup + 2 tsp melted virgin coconut oil
2 Tbsp almond milk at room temperature
1/2 tsp apple cider vinegar
1/2 tsp real vanilla extract
1/2 cup semi-sweet chocolate chips (vegan chips, dairy-free)
Directions:
Preheat oven to 400 degrees.
Grab a baking sheet and grease it lightly with cooking spray. 
In a large mixing bowl and add the flour, salt and baking powder.
Grind your flax seeds in a seed grinder or coffee grinder. Add them to the dry bowl.
In a medium bowl add the coconut oil, sugar, optional peanut butter and almond milk. Heat in the microwave until the coconut oil is super soft or melted and everything is warm in temperature. About thirty seconds in the microwave should do it.
Note: If you do not want to use the microwave you can allow the coconut oil to soften to room temperature on its own or by placing the coconut oil jar in a warm water bath.  Cold will turn the coconut oil hard and cause a cookie fail.
Stir the sugar/oil mixture and add the vanilla extract. Stir the sugar/oil mixture into the dry flour mixture. Stir well until you have a wet thick yet oily dough.
Fold in the vinegar and chocolate chips.

Tip! Use slightly chilled chocolate chips (I place mine in the fridge an hour before baking, this helps to firm up the dough a bit faster since the cold turns the coconut oil firm.)

Place the dough in the fridge just long enough for it to become sticky and firm like PlayDoh. You want to be able to roll the dough into a ball in the palm of your hand. Roll dough and place on baking sheets. Optional: roll cookies in sugar for an extra sweet accent.

After you place cookies in the 400 degree oven, turn the baking temp down to 375. Bake at 375 for 10-12 minutes - or until the tops begin to very slightly brown. The cookies will be very soft when you take them out of the oven, but as they cool they will become buttery and cookie-like in texture. Allow to cool for at least 10-15 minutes before disturbing. (I just leave mine right on the baking sheet for a few minutes .. that is why it is better to pull your cookies out a bit under-done since the bottoms can continue toasting a bit. The oil keeps them quite hot.
Cool. Eat. Enjoy. Store sealed in a container on your countertop. If storing in the fridge just be aware that they will firm up quite hard in the fridge and should be warmed slightly before serving.
                                       Return to Top of Vegan Cookie Recipes
---
Vegan Almond Delights
These cookies are so healthy they could actually be breakfast or a post-workout snack. I am sure that you will enjoy these during afternoon slumps and after dinner when craving something sweet
This recipe is super simple, it only has 5 ingredients. That's all you need. Forget the eggs, the flax, the sugar, the flour, the butter. All you need is dates, a banana, oats, almond meal and almond butter. Chocolate chips
Another bonus of the recipe is that the batter comes together in a food processor, making  this an easy vegan cookie recipe and clean up a snap!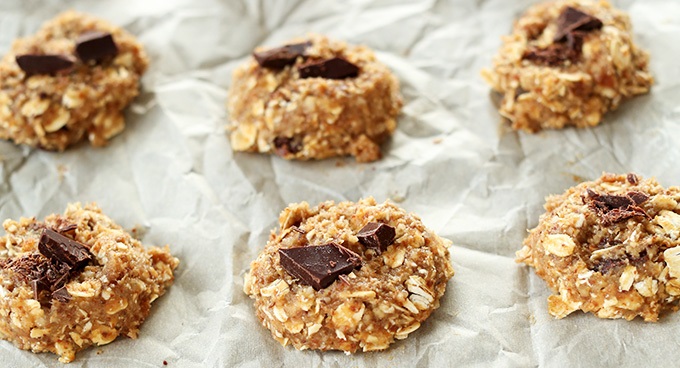 Ingredients:
1 cup Dates, packed (soaked for 10 minutes in warm water and then drained)
1 medium ripe banana
2 Tbsp all natural, salted almond butter or peanut butter
3/4 cup almond meal (ground from raw almonds)
3/4 cup gluten free rolled oats
½ cup dairy-free chocolate chips,raisins or nuts
Directions
Add dates to a food processor and pulse until small bits remain.
Add banana and almond butter and mix again until combined, scraping down the sides as needed.
Next add the almond meal and rolled oats and pulse until a loose dough is formed. It will be kind of wet and sticky.
Scrape your dough into a mixing bowl. If it feels too wet to the touch and form into cookies, add another few tablespoons of almond meal and/or oats and stir. Keep adding a bit more, if needed, until you are able to form them into cookies without them sticking to your hands.
At this point, you can add in 1/4 cup of your mix-in of choice, such as dairy-free dark chocolate chips, raisins or nuts. Then chill dough for 10 minutes and preheat oven to 350 degrees F.
Scoop out 1 Tbsp amounts of your cookie dough and form into loose discs, then arrange on a parchment lined baking sheet. They won't expand so pack them closer together (but not touching).
Top with chocolate chips, nuts or rasins and place in oven.
Bake for 15-18 minutes or until golden brown and somewhat firm to the touch. Remove and let set for a few minutes on the pan, then carefully transfer to a plate or cooling rack to cool. Serve immediately.
Store leftovers in an airtight container for several days. Move to the fridge or freezer for longer term storage.
                                       Return to Top of Vegan Cookie Recipes
---
Vegan Peanut Butter Cookie
Makes about 15 Vegan Peanut Butter Cookies.
I love peanut butter cookies!  These Vegan Peanut Butter Cookies could become one of my very favorite comfort foods. These are absolutely as good as I remember them... minus the eggs, dairy and! Perfection in a Vegan Cookie Recipe.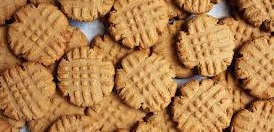 Vegan Peanut Butter
Ingredients
1 ½   All purpose flour
1 teaspoon baking soda
¼ teaspoon salt
1 cup packed dark brown sugar
¾ cup peanut butter , chunky or smooth
½ cup Earth Balance vegan butter (or Spectrum shortening)
1 tsp pure vanilla
¼ cup unsweetened applesauce
Organic cane sugar
Directions:
Preheat oven to 375 degrees  F (190C)
In a small bowl whisk together the flour, baking soda and salt. Set aside.
With an electric mixer, combine all other ingredients and mix until smooth. Slowly mix in the dry ingredients.
Roll the dough into balls then roll in cane the sugar. Flatten the cookies with your palm or use a fork to make traditional cross marks.
Place in oven and bake for 6 to 8 minutes.
Remove from oven and cool on a rack.
Eat and enjoy
                                      Return to Top of Vegan Cookie Recipes
---
If you would like to see more FREE Vegan Cookie Recipes, CLICK HERE.
---
Mini cookbook review

Let me start off by saying that I am not vegan. I am not even vegetarian, but I am a baker and I like to dabble in vegan baking, as it gives me new challenges and opportunities to try different things. With that said, I am really enjoying this book. It is filled with delectable vegan cookie recipes. Most of the recipes that I have tried have yielded great results, with the end products being very similar or exactly like their non-vegan counterparts.
---
Do you have a favorite Vegan Cookie Recipe?  Why not share it??
---
Have a Great Biscotti Recipe.... Why Not Share It!
I have been collecting Biscotti recipes for years and have started developing my own creations,but I can never have to much. If you have one you love, share it here.
---
Have a question about our Vegan Cookie Recipes?  Maybe you have something say about our recipes?
---
Questions or Comments?
Like a recipe or something you read? LET US KNOW!
Have a Question don't be shy, ASK US!
---