Apricot Ginger Biscotti
---
This recipe for Apricot Ginger Biscotti is great...producing biscotti that look like the ones from my favorite coffee shop, but for lots less! I sprinkled the log with sugar crystals after the egg wash for an even nicer presentation.  I'm not always a fan of candied ginger, but when combined with the apricots it is quite delicious.
This dough is certainly sticky. So sticky, that it's impossible to knead in the traditional way. 
| | |
| --- | --- |
| I poured it on a heavily floured board and scraped it up and over until it finally formed a manageable mass to transfer to the cookie sheet and form into a loaf. But not a 6 1/2 x 4 1/2 - as that width would spread out to about 8 inches wide, but about 3 inches wide. | |
The final result is a tasty combination of apricot and ginger. It is crisp on the outside and soft on the inside.  I prefer my biscotti crisp all the way through, and plan to stick with the more traditional recipes.  If you like ginger and a softer texture, you will enjoy these Apricot Ginger Biscotti without a doubt!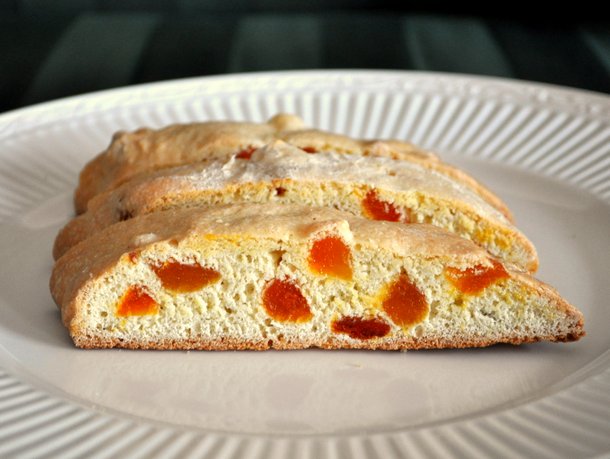 ---
Apricot Ginger Biscotti Recipe
Ingredients:
1/2 cup dried apricots, chopped
2 large eggs
1 teaspoon water
1 - 1/3 cups all-purpose flour
1/2 cup sugar
1/4 teaspoon baking soda
1/4 teaspoon baking powder
1/4 teaspoon salt
1/2 teaspoon vanilla
1 tablespoon candied ginger (chopped)
Directions:
Line a baking sheet with parchment paper or silicon baking sheet and set aside. 
Place one oven rack in the middle of your oven and preheat oven to 325°  F.
In a bowl, soak the apricots in boiling hot water to cover 5 minutes. Drain apricots well and pat them dry with paper towels. Chop the apricots fine.
In another bowl lightly whisk together eggs and transfer 1 teaspoon of egg to a small bowl.
Whisk water into the 1 teaspoon egg and reserve for the egg wash.
With an electric mixer and large bowl, blend the flour, sugar, baking soda, baking powder, and salt.
Add remaining egg and vanilla and beat until a dough forms. Stir in the apricots and ginger.
Turn dough out onto a floured surface and knead 6 times 
Place on baking sheet with floured hands, form dough into a 6-1/2-inch by 4-1/2-inch rectangle.
Brush rectangle with some reserved egg wash and place in the oven, bake for 30 minutes.
Remove from oven and cool rectangle on baking sheet placed on a rack for 10 minutes. 
Loosen rectangle from baking sheet with a metal spatula and carefully transfer to a cutting board. Cut rectangle crosswise into 1/2-inch thick slices.
Arrange biscotti, cut side down, on baking sheet and bake for 10 minutes. Turn over and back and additional 10 minutes, or until pale golden.
Remove from oven and transfer biscotti to rack and cool. 
Biscotti keep in an airtight container at room temperature for 3 days or frozen for 1 month.
---
Questions or Comments?
Like a recipe or something you read? LET US KNOW!
Have a Question don't be shy, ASK US!
---