Dried Cherry Biscotti
---
These Dried Cherry Biscotti are delight.  Combining a sweet almond meal dough with a tart cherry bite.
Unlike many crumbly cookies, these biscotti are sturdy enough to mail. For a holiday gift, send a batch along with a pound of your favorite coffee beans.
Dried cherries come in different types
Dried tart cherries (sweetened)  which are a sweet, tart, and flavorful treat that is great for snacking, cooking, and baking. These are usually tart Montmorency cherries are rich in antioxidants and nutrients that support heart health and reduce inflammation.
These are the one I choose to put in my Cherry Biscotti!
Dried tart cherries (unsweetened)  are packed with a bold sour flavor that will leave you wanting more.
Dried Bing cherries, naturally sweet and like a bright taste of summer in a chewy morsel!
Rainier Cherries are sure to put a smile on your face. Not too sweet and not too tart. Great for baking, in hot cereal, or just to eat.
Cherries can be found dried, freeze dried and in organic varieties.  They all have health benifts
In addition to being rich in potassium, vitamin C, and B complex, research has shown that cherry consumption can help the body prevent heart disease and cancer, as well as provide pain relief and improved bone health. These health benefits are possible due to the antioxidants found in cherries, the most vital of which are the flavonoids anthocyanins and quercetin, and the phenolic acid amygdalin.
So eat up, they not only taste great, dried cherries are good for your body!
---
Dried cherry biscotti recipe
Ingredients:
2 1/2 cups of flour.
1 cup of sugar.
1/2 teaspoon of baking soda.
1/2 teaspoon of baking powder.
1/2 teaspoon of salt.
3 medium eggs.
1/4 cup whole milk
1 teaspoon of vanilla extract.
1 cup dried cherries, chopped.
1 cup of ground almonds.
Directions:
Line a large baking sheet with parchment paper, or spray with non-stick vegetable spray, and set aside.
Place one of your oven racks in the center of your oven, and preheat to 350°F.
In a large bowl blend together the flour, sugar, baking soda, baking powder and salt.
In a medium bowl, add the eggs and vanilla, beating
Add the egg mixture to the flour mixture and beat until dough is formed
Stir in the chopped dried cherries and ground almonds, if necessary turn out on to a floured surface and knead until cherries and almonds in blended.
Divide the dough in half and form into two flat logs about 9 inches long and 3 inches wide, place onto prepared baking sheet.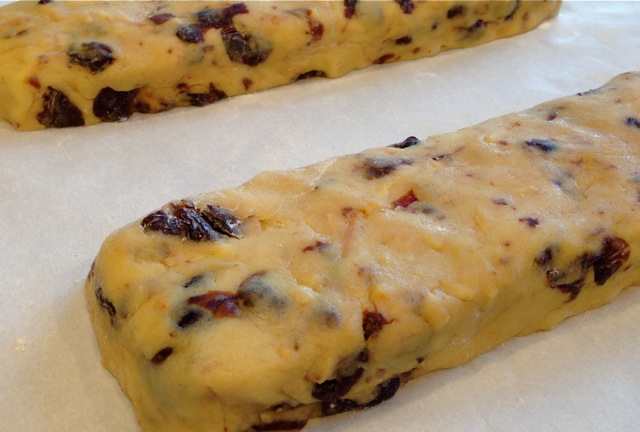 7.  Place into oven and bake for about 25 minutes or until lightly        browned on top.
8.  Remove from oven and allow to cool on the baking sheet,                resting on a cooling rack for 10 minutes. Reduce oven                    temperature to 325°F.
9.  Move logs to a cutting board, cut the logs on the diagonal into        half-inch thick pieces.
10. Return to baking sheet, placing on one side.
11. Return to the oven and bake for 10-12 minute, turning over          halfway through the bake.
12. Remove from oven and place biscotti on a cooling rack and            cool completely.
13. Store in air tight container to maintain freshness.
---
Questions or Comments?
Like a recipe or something you read? LET US KNOW!
Have a Question don't be shy, ASK US!
---
---